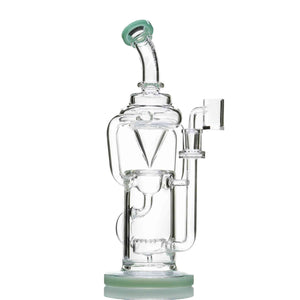 Product image 1

Product image 2
Product image 3
Product image 4
Product image 5
Product image 6
The Gravity Recycler Rig Esigo Glass
Regular price
$110.95
FREE DISCREET SHIPPING
The Gravity Recycler Rig by Esigo Glass is something we bet you haven't seen before. We're not referring to the design that makes a statement where it stands but the function of this piece. This majestic recycler rig has a open cyclone drain that collects water preventing it from going up the mouthpiece.
That open drain will drop water out of the rig, and back into the chamber via a small water hole placed strategically to not affect your smoking experience. Once you get your hands on this one you won't want to let go! 
Highlights:
💛 13 Inch Height
💛 4.5 Inch Base
💛 5MM Thick Glass
💛 Disc Percolator
💛 Triple Arm Recycling
💛 Flared Mouthpiece
💛 Open Cyclone Drain
💛 Esigo Glass
💛 XL Flat Top Quartz Banger
💛 14MM Esigo Bong Bowl
Note: All models are shipped in assorted colors.