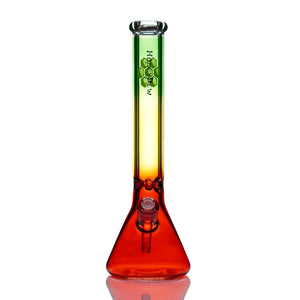 Regular price
$99.95
Sale price
$149.95
FREE DISCREET SHIPPING
Exceptional quality meets affordability with this unbeatable piece. At 16" tall, it's a full-sized bong made with thick 9mm borosilicate glass for added durability. It would take a serious fall to chip or crack this hearty bong with its reinforced tubing and rounded base. The road breservoir holds plenty of water to help cool your smoke, while a diffused down-stem filters smoke for a smoother rip.


Highlights.
16" tall and 5" base width

9mm high-quality borosilicate glass confers durability.

Flat base (5") allows this bong to sit comfortably on any surface without toppling over

Ice catcher for an extra cool smoking experience. 
Transparent rasta theme
Excellent addition to any collection.