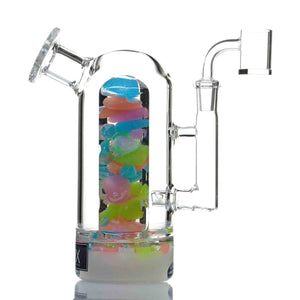 Product image 1

Product image 2

Product image 3

Product image 4

Product image 5

Product image 6
Product image 7
Product image 8
Product image 9
Product image 10
Product image 11
Product image 12
Product image 13
Product image 14
Product image 15
Inex Glass Stage 2 Dab Rig
Regular price
$154.20
FREE DISCREET SHIPPING
Stage 2 Dab Rig Highlights:
💛 Inex Glass
💛 8 Inch Height
💛 3 Inch Width
💛 3D Resin Embedded Themes
💛 UV Reactant
💛 One Of A Kind Pieces
💛 Includes XL Quartz Banger
💛 Includes Flower Bowl
💛 Terpene Flavor Hits
The Inex Glass Stage 2 Dab Rig is a resin cured 3D unique dab rig that is ready to "WOW" you! This dab rig stands 8 inches in height and is made with scientific grade borosilicate glass. There are three designs for you to choose from and they are exclusively limited.
All three themes are UV reactant that glow bright when hit with a UV light. This means they also glow in the dark in different areas of the dab rig. The chamber is designed to maximize flavors and give your hits a punch of terpenes. A complex production process is used to put together such a unique rig.
First this dab rig is hand blown by the Inex Glass and then it is fulled with resin. The resin is combined with different artistic material which has to cure over a few days to complete it. If you appreciate art as much as you do smoking, then this is the best of both worlds.