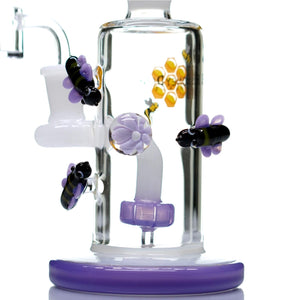 Product image 1
Product image 2
Product image 3
Product image 4
Product image 5
Product image 6
Product image 7
Product image 8
Product image 9
HoneyDew Tattoo Glass Bee Dab Rig
Regular price
$94.95
Sale price
$114.95
FREE DISCREET SHIPPING
Check Out All Of Our Premium Dab Rigs 👈
The HoneyDew Tattoo Glass Bee rig is an entry level piece for glass fanatics that want artwork welded into their pieces!
This rig stands at 8.5 inches and has white glass carefully placed onto its body! Three bees are welded onto the body of the rig doubled with an artistic rose that displace precise details.
The dab rig comes with a 14mm flower bowl and a 14mm flat bed premium quartz banger to give you the ultimate value!
Highlights:
Height: 8.5 Inch
Width: 3.5 Inch
Weight: 12oz
Thickness: 5MM
HoneyDew Glass
Tattoo Glass
3 Bees Featured
Matrix Perc

Includes 14MM Flower Bowl
Includes 14MM Premium Quartz Banger