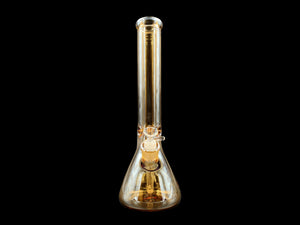 Regular price
$94.95
Sale price
$129.95
FREE DISCREET SHIPPING
This glorious piece comes in an awe of luxury with its transparent gold hue. The finish is flawless and will catch anyone's attention. You'll find yourself gracefully staring at this magnificent glass after your sessions as the finish is that good. Featuring 9mm thickness this piece can take a good hit and not shatter. 
Highlights.
14" tall with 5" base width
9mm high-quality borosilicate glass confers durability.

Weighs over 2.5lbs
Flat base (5") allows this bong to sit comfortably on any surface without toppling over
Ice catcher for an extra cool smoking experience.
Excellent addition to any collection.