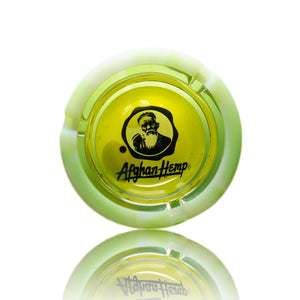 Product image 1
Product image 2

Product image 3

Product image 4

Product image 5
Product image 6
Product image 7
Afghan Hemp Shatter Resistant Glass Ashtray
Regular price
$11.95
Sale price
$14.95
The Afghan Hemp Shatter Resistant Glass Ashtray is as durable as they can come. This ashtray is constructed of thick, shatter resistant glass which is double protected by a strong silicone housing.
You can drop this essential on any surface and watch it survive the impact. Tested to withstand drops from 20 feet high so you'll only worry about cleaning the ashes off your floor instead of shattered glass.
Available in 6 different colors and with the green option being glow in the dark. It measures roughly 4 inches in diameter and is non slip on most surfaces. The glass is stain proof and easy to clean making this a needed essential for your arsenal!
Highlights:
4 Inches Wide
1 Inch Glass Bowl Depth
1.75 Inch Overall Height
Thick Glass
Shatter Resistant Glass
Silicone Housing 
Easy To Clean
Grips Most Surfaces