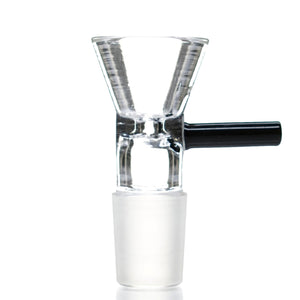 18MM Black Handle Bong Bowl
This 18mm bong bowl is a classic shaped essential that has a black colored glass handle. Only made for bongs that require a 18mm male insert.
Being constructed of borosilicate glass that is thicker than your standard glass bowl. If you're looking to maximize airflow then you should use a 18mm sized joint. The extended handle allows you to easily insert or pull during your draws.
Highlights:
18MM
Male Joint
Clear Glass
Thick Glass
Black Handle
Made Of Borosilicate Glass