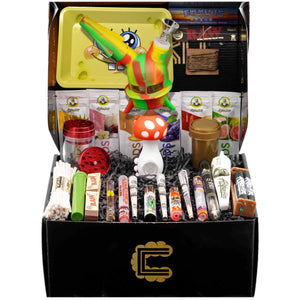 Product image 1

Product image 2
Regular price
$59.95
Sale price
$119.99
FREE DISCREET SHIPPING
If Cheech & Chong were to pick a kit this would be it! The Cheefkit OG includes 26 items ranging from water pipes to rolling trays. Losing lighters happens to the best of us but no worries we've got you covered with 2 in this kit! The UFO silicone water pipe and aluminum grinder jar included in this kit retails for $90 alone! 
Includes the following items.
UFO 4-in-1 Water Pipe
Glass Jar + Built In Aluminum Grinder

Assorted Silicone Spoon Pipe
Small Rolling Tray

Benji Cones King Size
2x Clipper Lighters
Rolling Machine
6x Hemp Wraps
Cones King Size
2x RAW Tips
2x King Slim Papers
2x Clipper Lighter
HoneyDew Glass Chillum
Afghan Hemp Wick

2x Cyclones
3g Container For Herbs
Plastic Childproof Doob Tube
International orders will have all flammables and hemp products replaced with equally valued goods.
Note all items listed in the description are included with kits but glassware and item colors/designs/flavor may vary.