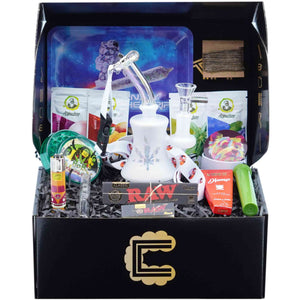 Regular price
$39.95
Sale price
$99.95
FREE DISCREET SHIPPING
Need a banging value at an affordable price? Then you're covered with our brand new Bongkit Mini! This kit is packed with 17 smoking essentials with the main piece being the electro plated MJ water pipe. This piece stands at 6 inches and is crafted with elegant electro plating scheme combined with a sand blasted finish giving it a premium feel.
Our electro plated MJ water pipe retails for $40 alone so you're getting an ultimate value with a total of 17 items for almost the same price as the water pipe! The Mini Bong Kits are limited in stock and the glassware design will not be restocked once sold out!
Includes following items:
6 Inch Electro Plated MJ Water Pipe
14mm Flower Bowl
Glass Chillum Pipe
Rolling Tray
4x Afghan Hemp Woods
4 Stage Acrylic Grinder
King Slim Rolling Papers
Clipper Lighter
Afghan Hemp Wick
Vibes Hemp Cones
Doobtube
Raw Rolling Tips
Custom 3g Herb Tin
Keychain Lanyard
Cheefkit Exclusive Sticker
Note: Product colors, flavors, and designs may vary depending on available stock. The product image represents an example of the bundle you will receive.