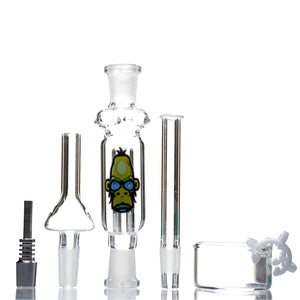 Alien Ape Nectar Collector Kit
Regular price
$32.95
Sale price
$39.95
FREE DISCREET SHIPPING
Alien Ape is back at it with this nectar collector kit! This kit features a total of 6 concentrates essentials that will elevate your smoking sesh. When fully assembled, this nectar collector is 9 inches in length. The center piece with the Alien Ape logo, holds water with an inline perc to filter and diffuse all your vaporized smoke.
The attachments for this kit are 10mm in size making this a slender and easy to carry nectar collector. A titanium tip and a quartz tip are included so you have a backup incase you break or lose the other.
Add the plastic clamp to the tip to secure the attachments before taking a dab of your favorite wax. Once the clamp is secured, lightly make contact with the wax inside of the heat resistant borosilicate glass tub that is included in this kit.
Highlights:
Length: 9 Inch
10MM Attachments
Inline Perc
Includes Nectar Collector
Includes Quartz Tip
Includes Titanium Tip
Includes Plastic Clamp
Includes Concentrates Tub