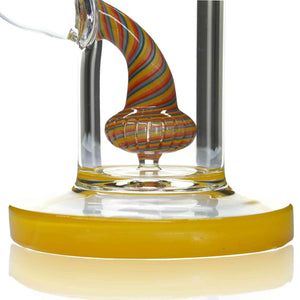 Product image 1
Product image 2
Product image 3
Product image 4
Product image 5
Product image 6

Product image 7
Product image 8
Lotus Tower Straight Shooter Esigo Glass
Regular price
$114.95
Sale price
$191.95
FREE DISCREET SHIPPING
The Lotus Tower Straight Shooter is a flurry of design elements created by the artistic glass blowers at Esigo Glass. This tower of a bong stands over 16 inches in height and has dual filtration built into the body. The neck has laser etched branding that hovers above the candy swirl touch. 
The lotus flower sits in top of the second inline perc that is accompanied by the candy swirl matrix perc in the lower chamber. Overall this is a jaw dropping piece that will stand proudly on any display it meets.
Highlights:
💛 14 Inch Height
💛 4 Inch Base
💛 5MM Thick Glass
💛 Lotus Flower Accent
💛 Dual Stage Filtration
💛 Esigo Glass
💛 14MM Horned Swirl Esigo Bong Bowl
💛 Collectors Piece
Note: All models are shipped in assorted colors.