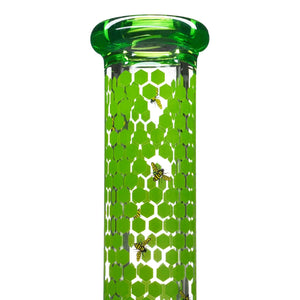 Product image 1
Product image 2
Product image 3
Product image 4
Product image 5
Product image 6
Bougie 9MM Beaker Esigo Glass
Regular price
$99.95
FREE DISCREET SHIPPING
This Bougie 9MM Beaker Esigo Glass is a premium piece that you want in your smoking arsenal. It is made of 9mm thick borosilicate glass, which is known for its strength, heat resistance, and durability. It features an hourglass ice catcher, 18mm black diffused down stem, and a 14mm large grooved flower bowl that packs extra herb. The bong is finished with an accented mouth piece that is rounded for optimal comfort and a unique honeycomb theme for a striking aesthetic.
Highlights:
💛 14 Inch Height
💛 4.5 Inch Base
💛 9MM Thick Glass
💛 Drippy Theme
💛 Black Down-Stem
💛 Esigo Glass
💛 Ice Catcher
💛 14MM Esigo Bong Bowl
Note: All models are shipped in assorted colors.